Login
NEW CUSTOMERS
By creating an account with our store, you will be able to move through the checkout process faster, store multiple shipping addresses, view and track your orders in your account and more.
CREATE AN ACCOUNT
SEARCH
Andreas, Leonid und Johannes Rath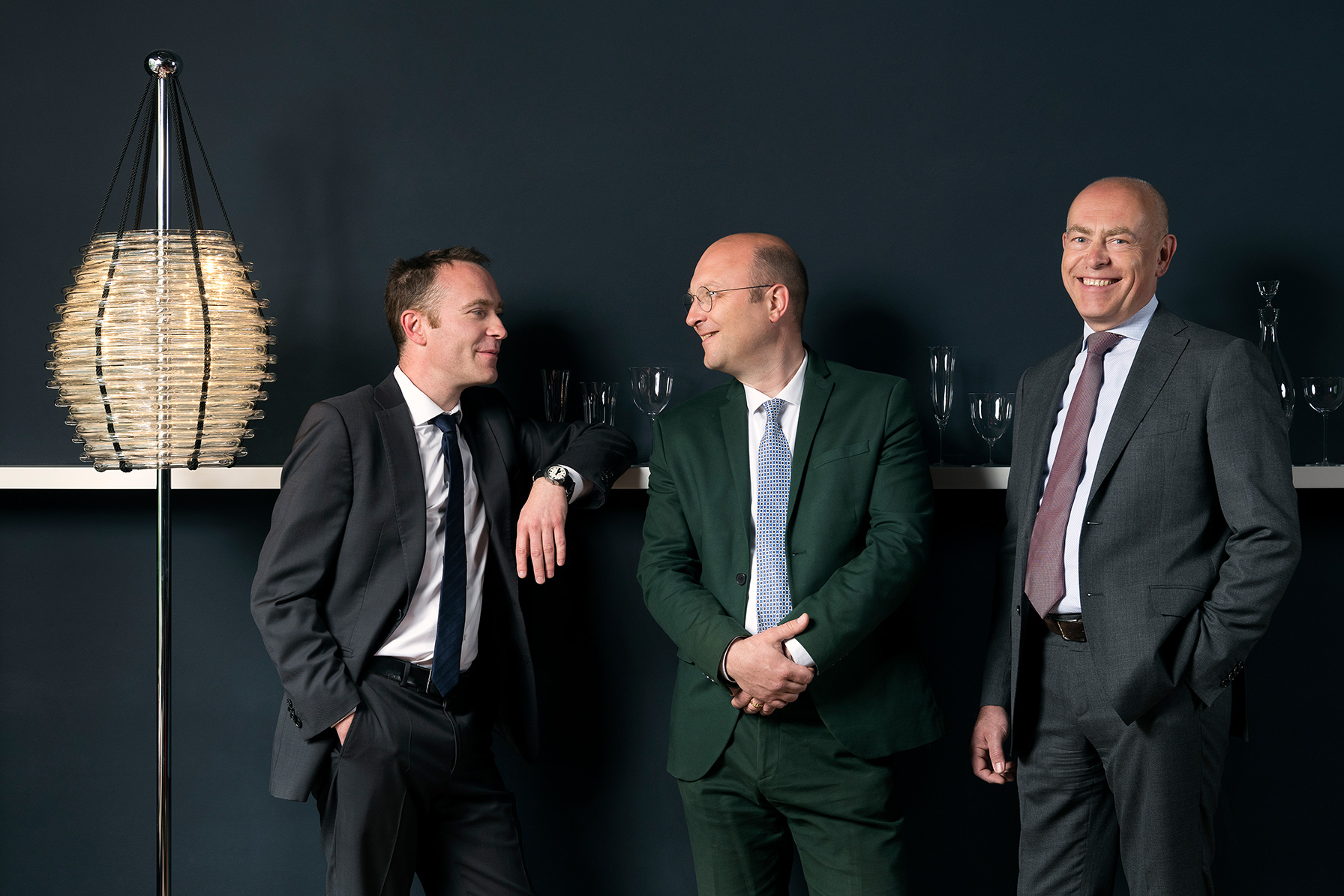 Andreas, Leonid, and Johannes Rath (since 2000)
The sixth generation of Lobmeyr leadership, the cousins Andreas, Leonid, and Johannes Rath are guiding the company into the new millennium. They place particular emphasis on intensive collaborations with the new generation of designers, adjusting the product range to meet today's needs and developing an international distribution network. Carefully adapting the company for the contemporary age, they never lose sight of Lobmeyr's core values of authenticity, fine handicraft, curiosity, and outstanding design.
From tradition springs renewal
After taking the reins of the business, Andreas, Leonid, and Johannes profoundly revamped the assortment of glassware and chandeliers. Many styles were discontinued, new products were added in close collaboration with today's designers, and several carefully considered editions were returned to production. "We like to think of our product range as a garden where you plant new seedlings on a regular basis and cut down a dead tree here or there. The assortment must always meet the needs that people have today," explains Leonid, who is responsible for Lobmeyr's glassware division. For example, the 100th birthday of Wiener Werkstätte in 2003 proved the perfect occasion to reissue several styles from a period that was highly important for Lobmeyr. One of these was Josef Hoffmann's famous bronzite series, which was reproduced true to the original design. It is also significant that Lobmeyr is once again producing a national glass service: Drinking Set No. 280, conceived in 2009 by Viennese designers Polka and engraved with an Austrian eagle.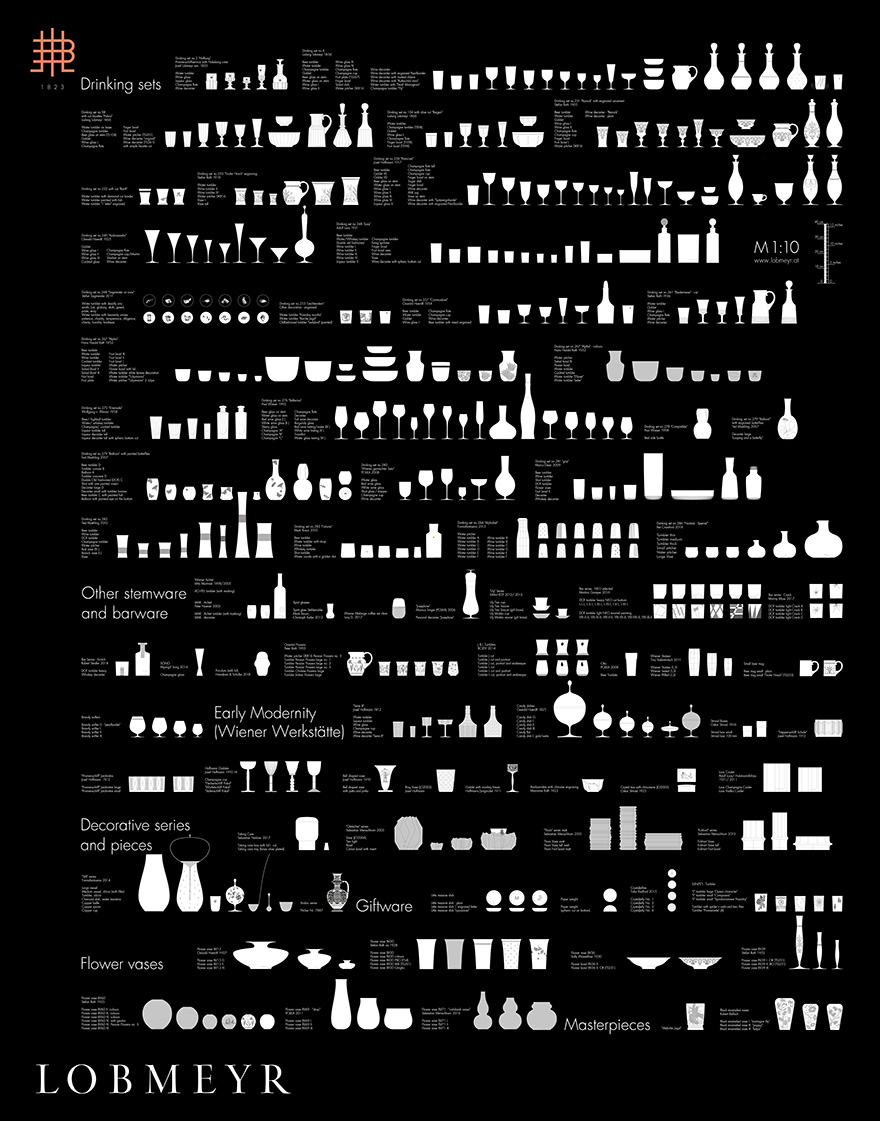 During the 2000s, the chandelier assortment showed a clear lineage from the most important historical and modernist designs, regularly complemented by contemporary creations. "Modern lighting technology has finally freed the chandelier from its duty to light the room and it can now simply be beautiful," says Johannes, head of the chandelier division, with satisfaction. In addition to manufacturing new chandeliers, restoration and maintenance are also very important tasks that require the full spectrum of traditional knowledge and skill. In 2008, for example, an elaborate restoration of the Met chandelier —delivered to the Metropolitan Opera in New York in 1966—was completed in record time to fit with the opera house's brief scheduled closure. Another milestone was the 2009–2013 restoration and partial reconstruction of several monumental baroque chandeliers in Stadtpalais Liechtenstein together with the conservators in charge of the project—a feat that wrote a new page in restoration history.
The three owners are also successively renewing the company's image, with historical elements being integrated and highlighted in current designs. The Lobmeyr CI, for example, now more prominently features the crosshatch logo from Ludwig Lobmeyr's day. The flagship store on Kärntner Strasse, managed by Andreas, is being refreshed together with Viennese architecture team Hubmann · Vass: Original features are being restored and retained while some later fixtures will be removed and replaced by contemporary options. The product range is being rounded out with a fine selection of pieces made by European manufacturers, creating a strong connection to the design history that Lobmeyr has embodied throughout the eras. "Our Austrian and international customers appreciate the tremendous quality of craftsmanship and design, the architecture of our main location, and the friendliness and competence of our employees," says Andreas. "Lobmeyr is part of Vienna, like the State Opera and the Musikverein."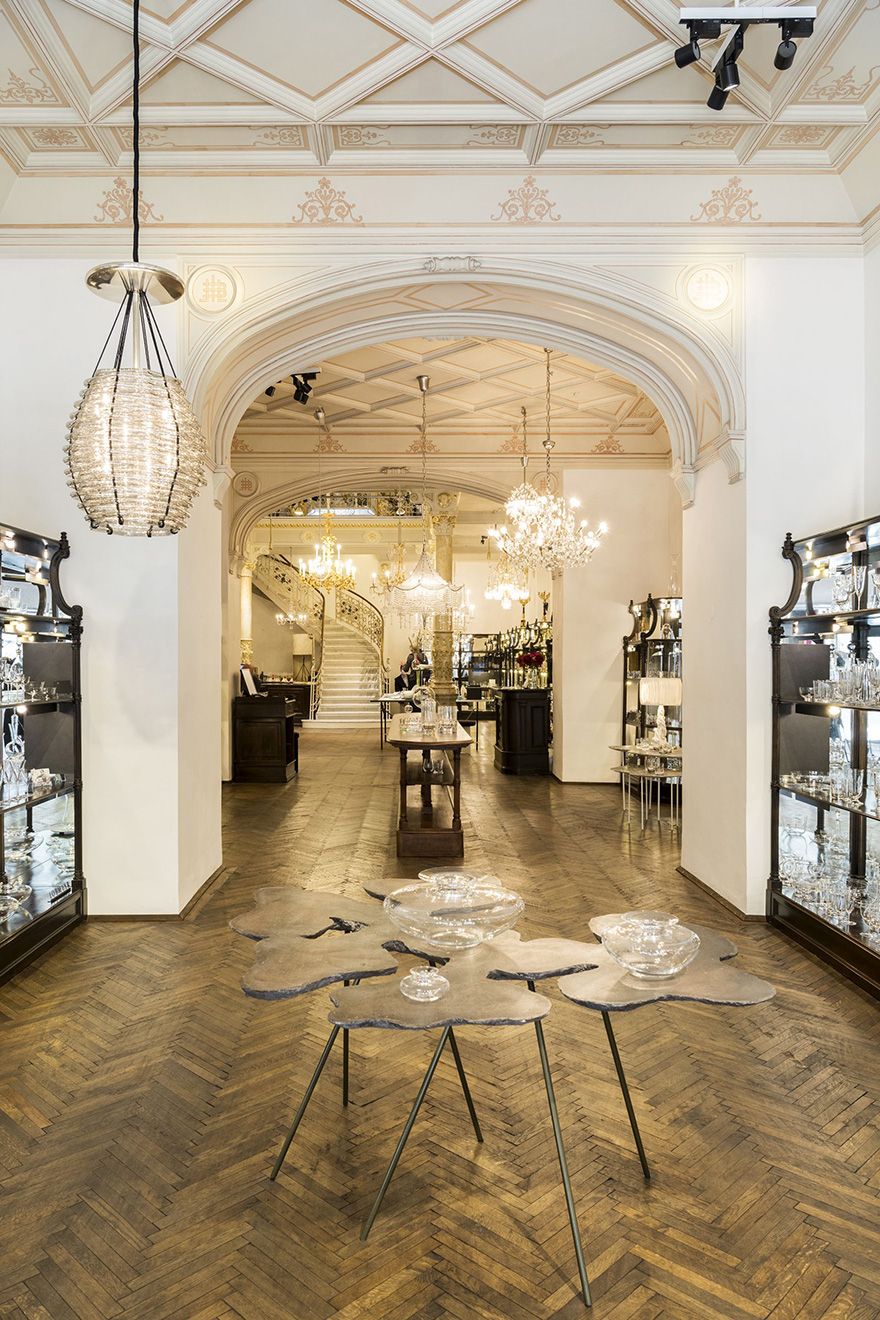 Over the course of the 2000s, Vienna experienced a blossoming in the field of design, with newly founded firms, new design fairs, and the establishment of the international Vienna Design Week festival. Lobmeyr was, and remains, an important player and reliable partner in this evolution. New products were created together with Viennese designers like Sebastian Menschhorn, Polka, and Miki Martinek, and Lobmeyr soon began working with such international design stars as Formafantasma, Ted Muehling, Martino Gamper, Ilse Crawford, and Stefan Sagmeister for glassware, and Michael Anastassiades and Bodo Sperlein on new chandeliers. International exhibitions like Wallpaper Handmade in Milan and various collaborations with stores and customers have also had catalytic effects. Lobmeyr's own understanding of its glassware was renewed during this time, as it moved away from showcase glasses and superficial table etiquette and on to using high-quality glassware to enjoy everyday life. "People long for good products that have been carefully designed and lovingly crafted by hand," says Leonid.
Their parents built up the Japanese market long ago, and the three cousins began to expand their network of international partners to well over 200 locations in cities from New York to Zurich to South Korea—including a few large department stores but mostly owner-run shops with strong ideas and character. In addition, the finest restaurants in the world are increasingly ordering glassware and chandeliers to highlight their unique and exclusive ambience. In the chandelier sector, bespoke productions for private customers remain a priority, while the glassware sector is seeing growing demand for customised home collections for brands such as Tiffany, Diptyque, and Dior.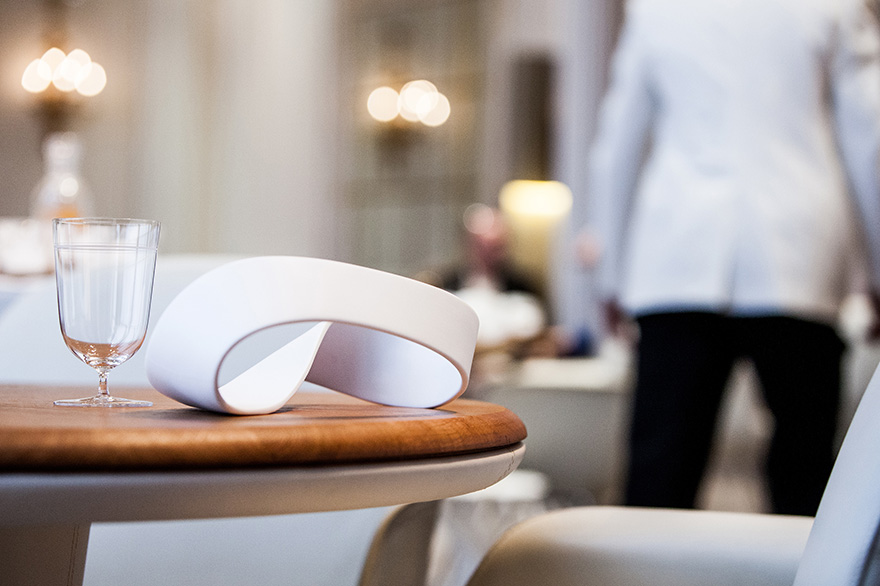 In 2023, the three cousins are celebrating the 200th anniversary of the company with an array of events, including special exhibitions in honour of the traditional company at museums of applied arts in Vienna and Prague.